Yes folks another week down! Week 5 was much better and less h

ectic than week 4 for some reason. It was probably due to the fact that I didn't have any tests, and that I followed my detailed schedule more. I guess we'll start out this weekly report with what I did from last Saturday to this Saturday. Last Saturday was the bomb, I didn't work and had the great opportunity to spend 11am-5pm with the best single adults in St. George at the YSA conference. It was so good, I look at it as an EFY for adults. I learned so much about t

rials, patriarchal blessings, being an example all the time, how to have my life Temple centered

and much, much more! We also had the privilege to hear form Dallin H Oaks and his wife, and Elder

and sister Rasband from the quorum of the seventy. They all talked about being prepared and making sure we know who we are. Sister Oaks is hilarious, did you know she got married when she was fifty!? Holy cow...for all us 22 year olds, stop freaking out if you aren't dating anyone and not getting married-If sister Oaks can do it so can we. I just loved the whole conference and wish they did it every week!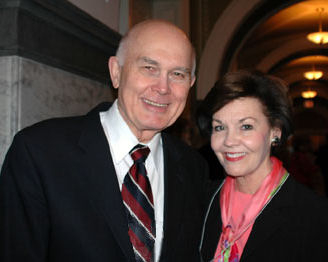 After the conference Tiana and I went on a little roommate date, she is one of my best friends and we're both really busy and we hardly get bonding time. So we decided to go to Pancho and Leftys for dinner, it was delicious! (Plus we had a totally cute waiter) That night also happened to be a wedding reception for one of my co-workers she is also a great friend. So T and I took a leisurely drive out to Pinevalley, it was so beautiful and chilly out there. Her reception was so good and she looked amazing.
The rest of the week just flew by, I went to the gym everyday except Wednesday which was so good. I worked everyday but Tuesday because I had institute which was awesome. Austin came with me and then we went to Olive Garden for dinner, and then to Lindsey's for her belated birthday party. It was so good to hang out with those two just like old times. Wednesday Thursday and Friday I just worked. Saturday I went to dinner and reunited with Kayla Garbett Marshall!! It was sooo great to see her and talk all night. I miss her and will make sure we keep in touch!
It's also been awhile since I've talked to my BFF Hillary and last night she called me! It was so exciting to talk to her and we are both so upset that it has been a whole month since we've talked. This up coming weekend is conference and the roomies and I have tickets!!! So sometime during our up north adventure Hill will meet up with me so I can't wait for that, I miss this girl so much!
Then last night we went to Walmart and then did our weekly tradition of sleeping out in the front room as roommates we do it every Saturday and love it! Then today was awesome, Jaelle and I did our visiting teaching for the month and testimony meeting was better than ever!
This week was really the best week I have had in a long time! I have a great life with lots of friends and people who care about me I am a very lucky girl :)